It's a miserable 14 hour bus ride from Mexico City to San Cristobal de las Casas. To save money, I booked a second-class bus, which are very similar to Greyhound in the US. However, I'm just too big to fit comfortably on the bus, and of course I have to sit by one of this biggest Mexican men I've seen since I've been here. After getting only 1 or 2 hours of sleep during the night, I arrived to San Cristobal de las Casas. Eric & Sabrina are staying at the Spanish Institute of San Cristobal, so I make my way there and book myself a room for a week. The school is very nice – a fully stocked kitchen, friendly workers and teachers, and an energetic dog named Fiona, who I start talking on walks.
San Cristobal is a colonial town is set in a beautiful highland valley surrounded by pine forests. It's in the heart of the indigenous population of Mexico, with the surrounding towns being Tzotzil and Tzeltal villages known for their artisan crafts. It's also one of the centers of the Zapatista movement. In 1994, the Zapatista rebels took over the government offices before being driven off by the Mexican army after 4 days. There's a lot of political commentary in the town, spray-painted on the sides of buildings and integrated into the artwork and decorations of places. Some businesses advertise their support of the Zapatistas, with profits being shared to help support the movement.

A couple of panoramic shots from the school, near the Catedral de Guadalupe

The house dog, Fiona

A Zapatista painting of Virgin of Guadalupe. Notice the bandoliers strung across her chest and the red bandana over her face, which are typical Zapatista symbols.

Eric, Sabrina and I cook up a "Mexican Christmas"dinner, with chicken, mashed potatoes, veggies, and beer.

An old man takes a nap standing up near his cart of cigarettes, candy, and sweets.

The zocalo in San Cristobal. Artisans from the area line the streets, selling home made scarves, bracelets, hats, and ponchos made from wool grown locally.

A parade through town for Barrio de Mexicanos

A parade in San Cristobal for New Years Eve. A line of trucks tours through the town, with different kinds of trees and men playing music in the bed of the trucks.
Kay and Dachary, from www.corporaterunaways, are also traveling down to Argentina on their motorcycles. I invite them to join us for a day or two, so they swing by before heading to Palenque and Guatemala.

Kay and Dachary on their F650's
The 5 of us take a cambi ride (van's that service rides to local areas for 10 pesos) to San Juan Chamula, an independent indigenous town about 10km away from San Cristobal. The main attraction here is the unique religious practices at the church in town. It's a mixture of traditional Mayan religion and Christianity. Photography is absolutely prohibited inside the church, but I'll never forget what it's like inside. Hundreds of candles are setup along the pine-needle covered floors, in front of statues of saints. A thick cloud of incense hangs in the air, and people pray and chant in Tzotzil to the saints. The religious leaders, men covered in white tunics of thick wool, walk around and chant over people and perform healing rituals with chickens and CocaCola, which is thought to help allow evil spirits to be removed from a person through burping.

The church in San Juan Chamula

The ruins of the old church in San Juan Chamula are surrounded by a packed graveyard – some gravestones are piled on top of each other 4 deep.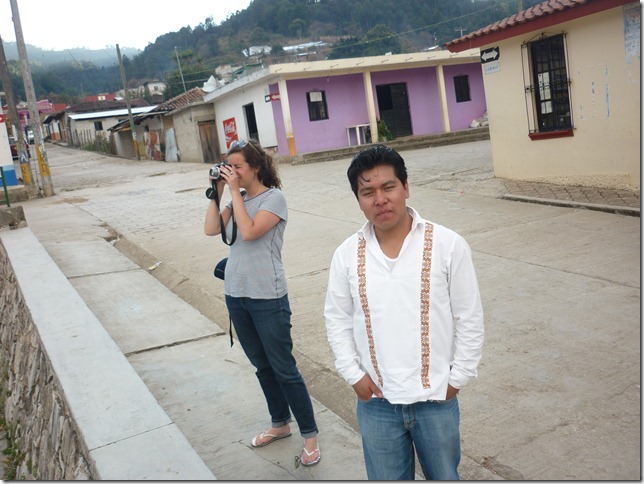 I met Dana, from New Jersey, while watching the parade through town. She invited me to join her on a tour of a local artisan shop with the owner, Manuel, who grew up as a Tzotzil in the nearby area. He gave us a tour of his shop, which has rugs and other handmade artisans from the different small communities in Chiapas. He also showed us all of the different types of traditional dress that the people in the towns wear, which differs greatly from town-to-town.
After our tour of Manuel's shop, he offered to take us to another local Tzotzil town, San Lorena Zinacantan. Manuel speaks Tzotzil, and was able to let us enter some of the artisans homes where they were making rugs by hand.

This woman gave us a local beverage, pox (pronounced posh), which is an inexpensive grain alcohol made from sugarcane. I purchased 2 bottles of the beverage, flavored with local fruits like melon. It's strong and delicious, and only 10 pesos per bottle.

The church in Zinacantan.
I joined Eric & Sabrina for a party at their school for New Years Eve. A few more students joined the owner, Luis, and one of his teachers for an evening of Spanish-only speaking. I'm definitely the worst Spanish speaker in the group, with only 1 week of formal Spanish training under my belt. It's still a great time, sharing stories, drinking wine & pox, and eating local foods. Afterwards, Eric, Sabrina and I wander around the town, grabbing drinks and enjoying the energy of the night. Sabrina runs into a friend that works at a local chocolate shop, and he invites us to a rooftop party. Everyone at the party is dancing, singing, passing around bottles of Mezcal and Pox, and enjoying a bonfire. We ring in the New Year by yelling "Feliz ano nuevo!", hugging and kissing everyone around and watching fireworks explode all over the town.

San Cristobal is a great, interesting town that you can spend a week in without seeing and experiencing everything. There's a large travelers crowd here, with inexpensive housing (I'm paying 40 pesos per day for my hostel), great cafes and restaurants, and lots of options for nightlife. Live music, DJs, comedy performances… this town has a lot to see and experience.
I'm still waiting for Mexican post to deliver a package to me here in San Cristobal, so I'm going to make the most of my time and head over to Palenque to see the ruins and rain forest. Eric and Sabrina are already there, so I'll again join them after a long bus ride through the twisty mountain roads in Chiapas.