With only a few days left on my 6-month Mexico visa, I don't have a lot of time to spend in Oaxaca. But, I spent almost 2 months in this state before and know some places that I want to see. Plus, this time I have Oscar back, and can go and see anything I want. First stop – Hierve el Agua, or "the water boils."
Hierve el Agua is about 70km east of Oaxaca City. Typically, you have to get a ride to Mitla then hop on a truck to take you through the mountains to Hierve el Agua. I decide to unload the bike a bit and take the long route through the mountains. Stopping in a couple of small villages at the base of the mountains, I ask around to find the trail and get pointed in the right direction. However, the locals warn me that the trail is 1-lane, dangerous, and remote. Perfect! I make my way on the trail, happy to be off-roading again with Oscar and taking in the incredible views.
The trail is rough and impassable at this point. Trying to turn around was a difficult process in the 90F heat. I sweat, curse, push, and drop Oscar a couple of times, but after digging out rocks for 15 minutes, eventually get the bike turned around and back to another fork in the trail.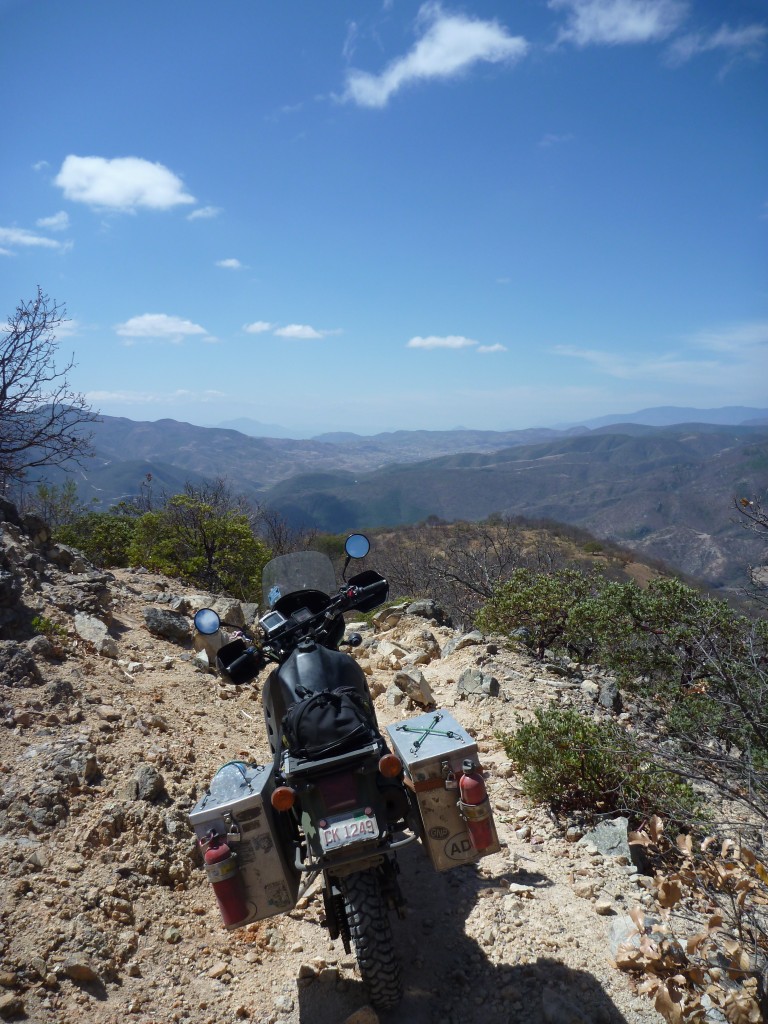 The trail isn't always as difficult, and eventually turns into a beautiful switchback dirt road that I keep turning around on to ride again and again.
After 3 hours of riding in the mountains, I arrive at Hierve el Agua just as a school field trip is leaving. The students are curious as to what the heck I'm doing out here, and a group of young girls comes up to talk to me and see if they can take pictures. I reply "Claro que si" or "Yes, of course" and the entire class comes running up to the bike, asking me the usual questions — where are you from, how old are you, how big is the bike, how fast does it go, you came all the way from Chicago?? Their teacher encourages them to speak with me in English, so I give her a hand and ask them all some easy questions while we're snapping photos.
Taking my route through the mountains, I bypassed some of the "tolls" that a tourist usually has to pay to enter the site. The land that Hierve el Agua sits on is in dispute — two towns claim administration and therefore you have to pay twice to enter, once coming through the town and once at the site entrance. But, regardless of how you enter the site, it's worth it.
After leaving Hierve el Agua, I take the same trails back through the mountains to the main road that runs back to Oaxaca. There are numerous towns off of the highway that are full of artisans. I pick one, Santa Ana del Valle, which was recommended by some friends in the city.
I love going to small towns and villages in Mexico, and Santa Ana is exactly this. There were exactly 0 other tourists in the village for the 2 hours I was there, so I was able to meet some of the locals, play basketball with high-schoolers, and purchase my first souvenir of the trip.
After a couple of hours in Santa Ana del Valle, I swung by Tule to see the famous Arbol del Tule, which is the largest tree in the world.
After 2 days in Oaxaca, I have to make my way South to exit the country asap. However, before I leave, I sign the wall at Hostel los Amigos.
Previously, I took a van from Puerto Angel to Oaxaca City on Hwy-175. The van ride was miserable, since 175 is one of the curviest roads I've ever been on. But I vowed to myself that I would ride the road with Oscar and decide to head out and make my way back to the beach.
I pulled off in one of the small towns along Hwy-175 to see a festival in full swing. I'm not in the mood to traipse around, so I go through the town to some small dirt roads and trails in the mountains. I'm looking for a campsite, as it's getting later in the day and it's still another 2 hours to the beach. After asking around and having no luck, I hop back on the bike and decide that I can make it to Puerto Angel just after dark.
I only spend 2 days in Puerto Angel, relaxing, swimming, surfing, and hanging out with my old friends. Afterwards, I decide to make my way back to San Cristobal de las Casas, where I stayed for a month over Christmas and New Years. It's relatively close to the border with Guatemala, and I want to see my friends there again before I exit the country.
I need to get to Guatemala before my visa and TVIP expire in Mexico. It's been 6 months since I entered the country, and I've absolutely fallen in love. Originally, I was planning on spending 2 months in Mexico, but after arriving, my pace slowed way down, I made some fantastic friends, ate the best food of my life, and realized that I really do love this country and want to spend more time here. The scenery and culture are incredible — you can go from sweating your ass off at the beach in the morning to freezing your ass off 4 hours later in the mountains.
I passed through brutal deserts in Baja, had the scariest (and most epic) ride of my life on the Espinazo del Diablo, partied it up during Cervantino in Guanajuato, lived with Mexicans in Guadalajara, had my first serious accident of this trip while going to Mexico City, toured the country via bus and hitchhiking, lived on the beach in Oaxaca for a month, and explored so little of such a huge country that I can't wait to go back.
If you want to take an adventure motorcycle trip, I would recommend Mexico any time. It's close to the US, has easy entry/exit requirements, and has some of the best on-road and off-road riding I've ever done. The people, culture, and food are second to none, and you can spend years in Mexico without seeing everything. Yes, there are drug and violence problems in Mexico right now, but you need to take news reports with a grain of salt, and do your own research before you make a decision.