The ride from Patzcuaro to Guadalajara was fantastic – smooth, winding country roads through the mountains of central Mexico. Traffic is light, and the weather is comfortable but chilly while speeding along fully exposed to the elements on Oscar. The trip takes longer than expected, as I get turned around and lost a couple of times and have to stop and ask for directions and new routes.

A safe way to transport newspapers. I offered to help with Oscar, but he refused.
My Garmin Zumo GPS has been broken since I arrived in mainland Mexico almost a month ago, and I haven't had an address for more than a couple of days so that Garmin could ship me a replacement unit under warranty. Instead, I've resorted to writing directions on a small sheet of paper and storing them on the sleeve of my Olympia X-Moto jacket. It has a nifty see-through waterproof pocket on the left sleeve, which I hadn't really used before, but has now come in handy for storing paper notes. However, I've started to enjoy not having a GPS while traveling by myself for the past week. Instead of depending on another person (or device) for help, I have to do some research (reading ADV and HU, LonelyPlanet, etc.), consult maps, talk to my friends, and do some more thinking about my route than before. I've also found it much easier to navigate in a busy city or town by paying more attention to the road and none at all to the GPS. I also really enough getting a little lost and stopping to ask for directions. My Spanish needs some work, but I can ask some questions and understand basic directions from people. I usually ask a few different people along the way to make sure I'm on the right track, because I've noticed that people in Mexico will typically say that you're on the right path and that you're only 2 hours away. I guess they don't like to disappoint us gringo travelers
I arrived in Guadalajara and spent a couple of days in Hostel Guadalajara Centro, a nice, inexpensive, centrally-located hostel. However, they didn't have secure parking for the bike, and the vibe at the hostel was a bit unfriendly compared to the places I've been staying recently. But, I'm having a lot of fun with my friends here that I met in Zacatecas and am enjoying the energy of being back in a big city. My friends are studying in Guadalajara, and have a connection to a cheap apartment that I decide to take for a month. The plan will be to study Spanish via Rosetta Stone on my computer and live with Spanish-speaking room mates. At the same time, Guadalajara is located in an area of Mexico that I can take long weekend trips to explore. And… I can have an address for Garmin to ship me a new Zumo! Score. I get hooked up with a friend-of-a-friend, look at an apartment, and decide to take it. Located in the Centro near El Santuario, the apartment is huge, the room mates are friendly, and the cost is only 2000 pesos per month ($160US!).

Parking space inside my house

Some of the best tacos in Guadalajara are at Halcon's. 6 pesos each, and absolutely delicious.

The Santuario

Guadalajara Centro

Beautiful sidewalk art
Most of the month is spent hanging out, exploring the city, eating tons of food, studying, sleeping, and taking weekend trips. I make good friends with one of the girls in a house near me, named Wendy. She joins me 2up on my weekend trips to Tequila, Sayulita, Puerto Vallarta, and Tepatitlan de Morelos.

Wendy getting ready to take her first long ride on a motorcycle
Tequila is only about an hour away from Guadalajara, and I want to take a distillery tour and learn more about the favorite beverage in Mexico.

The Cholula Factory in Tequila! My old room mates and I in Chicago would purchase the gigantic gallon size jug of Cholula and put it on everything we ate – breakfast, lunch, dinner, and desert.

Before our factory tour at the Jose Cuervo distillery

Out of sheer luck, the English speaking tour is very small (only 4 other people), and our guide happened to be a fellow Michigander and had lived in Chicago for some time. We become quick friends, and he hooked us up by letting us join the other 4 people in our group who purchased the expensive VIP tour tickets.

The barrels of Tequila aging

Samples were plentiful throughout the tour, all the way from Blanco to Anejo.

Part of the VIP tour is a special tequila tasting and a tour of the grounds and garden, which are spectacular. I also learned a great tip about drinking tequila – when you put the liquid in your mouth, breath IN through your nose. After you swallow, breath OUT through your mouth. It minimizes the burning sensation from tequila and helps improve the flavors your in your mouth and nose.

Having a good time on the tour.
I would highly recommend a tour at the Jose Cuervo factory. It cost about 150 pesos per person for a long guided tour, samples, and margaritas. However, plan on staying the night there as well (or taking some other form of transit back and forth). I was only able to sample a few of the Tequilas as I had to drive back to Guadalajara that evening.
Some of my room mates and other friends spent a weekend in Tepatitlan de Morelos, about 2 hours Northeast of Guadalajara, at a friends country house.

The ride there is spectacular, and Oscar is handling the 2-up riding surprisingly well.
My friends country house is fantastic. Way out in the countryside, surrounded by fields of agave, corn, and fruit trees. I take the opportunity to go exploring on an unloaded Oscar for a few hours.

Cruising through blue agave fields.

The crew – Mexican, German, Irish, and American
While I was walking around in Guadalajara, I saw a sign for casting of a Hollywood movie being shot in Guadalajara. The name? Mariachi Gringo. I'm the biggest (literally) gringo around, so I've gotta check it out and see if I can make my premiere on the big screen. The casting goes well, but unfortunately there was some miscommunication between myself and the casting agent, as I missed a meeting with the casting director who wanted me to have a speaking role in the movie. DOH! Instead, I'll play the role of an extra, "Backpacker Gringo #1". The pay is 700 pesos per day (score) and the work is a lot of fun. My fellow extras and I have a good time on set while filming our mundane parts – walking in and out of a bus 5 times, walking through a bus terminal multiple times, and other scenes in the Guadalajara bus terminal. It doesn't hurt that the other extras are cute and like to help my practice my Spanish
Photos were not allowed on set, but I snuck a few anyways. Yeah, I'm a naughty extra.

Fellow extras. I make friends with them and am invited to stay for free in the Yucatan once I make it there.

My partner in crime, "Gringo Backpacker #2".

One of the stars of the movie, Shawn Ashmore, who also stared as Iceman in Xmen, is playing the Mariachi Gringo. He's a nice guy, but quiet and nervous during the first day of filming.
While talking with Wendy one evening about how I try to handle security on the road by looking as poor as possible, never washing my bike or riding gear and not having very many nice things, Wendy mentions that I do have 2 nice cameras and a nice cell phone. Time to solve the problem!

Point and shoot digital camera after scratching it up, taping, painting and breaking non-functional parts.

Flip Mino HD before

And after
I spend Thanksgiving by crashing a potluck party with some of my friends, but it turns out to be a great time. We're warmly welcomed to the party, possibly because of the amount of alcohol we bring along.

Saying grace and giving Thanks

You may remember Cara from Zacatecas, who rode along with Saburro to Guanajuato and became a new member of the Adventure Biker gang.

Clean plate club! Especially on Thanksgiving
Travelers tip – if you're going to crash a party, bring lots of liquor and wine. The host will go from "Who are you guys?" to "Ahhh come in come in! Welcome to my home!"
The next weekend trip was to the beach at Sayulita. It's a longer ride to the coast, about 6 hours, but Wendy and I have a great time. We meet up with another biker along the way who is headed to Puerto Vallarta for a motorcycle rally. He's not the best rider, as is evidenced by his almost hitting a bus head-on while going around a curve. Wendy screamed and I was sure he was going to go right under the bus, but at the last second he leaned the bike over a little more and just squeaked past. Not being too comfortable riding with him any more, I sped up and lose him once the road becomes curve after curve after curve.

My riding partner for a few hours

The road to the beach

We find a beautiful and inexpensive (70 pesos/tent) place to camp on the beach, named Palmar de Camaron.

I spend the next morning exploring all of Sayulita on an unloaded Oscar, taking every dirt road and trail I can find as well as exploring the beautiful neighborhoods and houses in the area. It's the most touristy place I've been so far, and I don't stick out as a Gringo here. However, all of the Americans and expats thing I'm loco for riding a moto through Mexico. As much as I do like the beach in Sayulita, I don't like being in an American tourist town very much. I ask questions in Spanish and get replies in English, am given English menus, and pay the Gringo tax on everything.
Funny story – the rules of driving in Mexico are very chill, especially on a moto. You can pass on double yellow, on the right, on sidewalks, etc. Basically you can drive how you want and no one really cares. The only times I've ever been yelled at were in Sayulita and Puerto Vallarta, where old, gray-haired expat grandmothers scream to "SLOW DOWN" and "FOLLOW THE RULES". I laugh at them, wave, and pull a wheelie instead

The riding is fantastic through the forests and dirt roads in Sayulita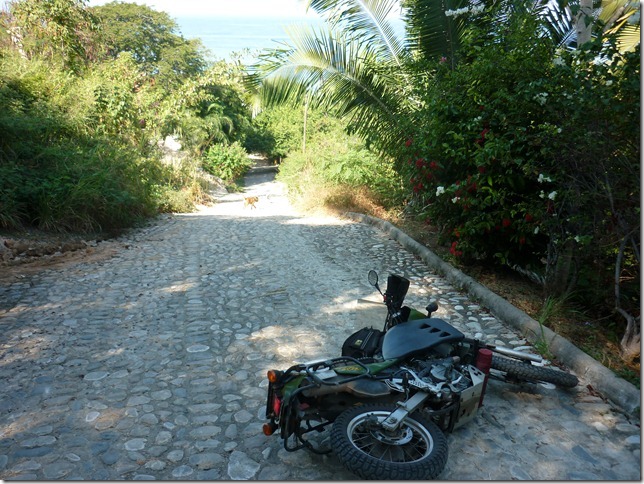 Nap time!
I haven't had any problems getting Oscar up after a nap during this trip. However, I dropped him on a steep incline, in dirt and sand, and had to drag the dropped bike a few feet to where I could get some traction on the ground. After exerting every ounce of strength that I have, I get the bike up and continue riding around the town. I'm sore for days after this incident… eek!

Walking on the beach and having a mini-photoshoot.
We make friends with a couple camping at the beach. Ryan, from San Diego, and his wife, Liliana, from Mexico, are artists that sell their wares around the country while traveling. They have just moved to Puerto Vallarta and invite us to join them for a couple of days. We didn't plan on going to Puerto Vallarta, but with a free place to stay with friends, we decide to head south on the coast and check the town out.
Puerto Vallarta and the towns surrounding it are a sharp contrast to the rest of the places I've been to in Mexico. We spend 30 minutes trying to find public access to the beach north of PV, and I'm blown away by the number of mega resorts that line the beach for miles and miles. I'm glad we have a free place to stay with friendly people, as PV is very expensive and feels like I'm back in the US.

North of PV

Beautiful sunsets in PV

Our new friends and hosts for the night, Lily and Ryan
After spending a fantastic 5 weeks in Guadalajara, I decide to take off and make my way to Mexico City (DF) and then onto southern Mexico for the Holidays. Has my Spanish improved? I'm unsure, until I meet up with a Spanish-only speaking friend that I met my first few days in the city. She's blown away by my improvement and my new ability to converse with her, whereas before we did a lot of sign language and Spanglish. So, I guess using Rosetta Stone and immersing yourself around Spanish speakers does help, even if it doesn't feel like it at the time.