Wednesday, September 29th, 2010 – San Diego, CA to San Felipe, Baja, MX
I received an email from Ben Slavin, a fellow adventure rider who I met at an ADV motorcycle rally in Minnesota a few months back. I had posted on his blog to see how he was doing, and he had gotten back to me that he was going to be crossing the Mexico border the next day. Well… that works out. Why not cross together and spend some time traveling? We made plans to meet early the next morning to hit the border at Tecate, Mexico.
Ben has traveled through Latin America and South America via motorcycle before, and this time he's doing it with a new purpose – to create a motorcycle documentary on how to travel to Mexico. He's been interviewing people who have traveled through Mexico, and is now getting footage for his film as he does the trip. One of the important parts of his film is how to go through a border crossing, and Ben asked me to narrate the process as we go. Sure!
After trying to find a store that I could print my mandatory Mexico motorcycle insurance at (nothing is open at 7am), we finally made it close to the border at Tecate. We wanted to check out the wall that separates the US from Mexico, and decided to take some dirt roads and trails to see it on the US side.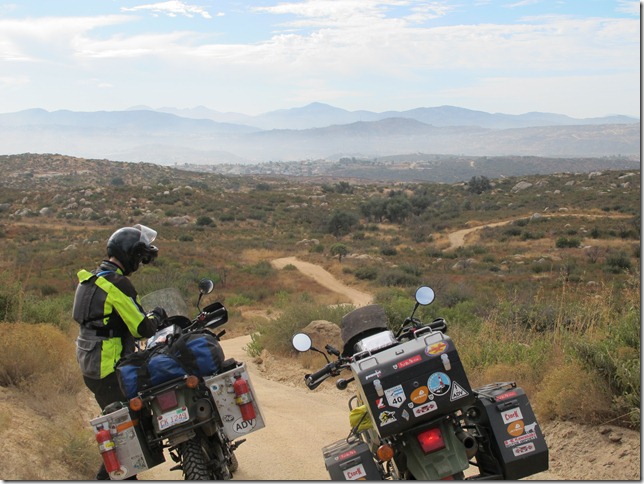 The trail we take to see the border wall.
About 30 seconds after getting to the wall, a border patrol SUV pulls up in front of us with its lights on, and an officer steps out to see what we were doing. We just explain that we wanted to ride some dirt trails and see the wall, and he tells us that we shouldn't be there and it's dangerous. Another officer stealthily pulls up behind us and starts asking us more questions, but he's more interested in our motorcycles after realizing that we're harmless. He's an ex-Marine and notices that our bikes look like the ones they use in the Middle East. We chit-chat for a while and they send us on our way to the border.
Crossing the border is a pretty painless process at Tecate. It's a very small crossing, with friendly people around to help out and point you in the direction you need to go. Many people could speak English as well, and Ben is much better as Spanish than I am. We go from the Immigration office to the bank 2 blocks away to pay our fee, then back to Immigration to get our Tourist Visa's for the next 6 months. Someone who works for immigration says he will watch our bikes during the process, and we take him up on the offer as we're parked 15 feet away from all of the border guards with their assault rifles, directly in front of one of the immigration offices. After this, we decide to head to Ensenada for lunch along Mexico Highway 3.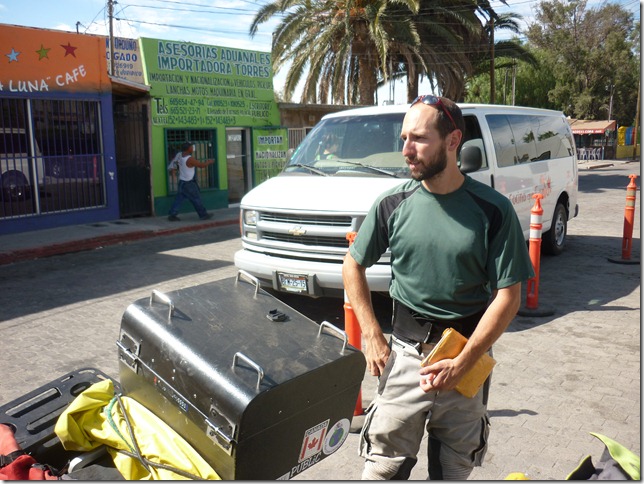 Ben grabbing his paperwork as we head into the Immigration office
After 6 weeks on the road, I'm finally in Mexico!
There's construction for the first 20 miles on Highway 3, and road construction in Mexico is much different than in the States. The main portion of the road is being worked on, and there are dirt and gravel paths winding along the side and crossing through the main road. These are being used by little cars, trucks, and fully loaded semi's, so we take advantage of our choice in transportation and pass by most everyone when we get a chance. It's an adventure riding in Mexico already! After the construction, Highway 3 is a nice, smooth road with some great riding through the mountains.
Once reaching Ensenada, we grab a taco lunch along the side of the road, fill up our tanks with gas at a Pemex (say "Llavo Magna, por favor", "Fill up with the cheap fuel, please"), and make our way through Ensenada. The traffic is bad, the city is busy, and the local dogs don't seem to like 2 loud motorcycles coming through their town, but luckily we make it through without incident and end up on some more beautiful  winding roads through the mountains.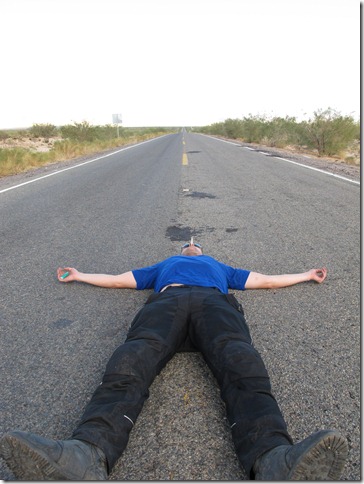 Taking a break along the road. There's hardly any traffic along Highway 3
Miles and miles of riding through the desert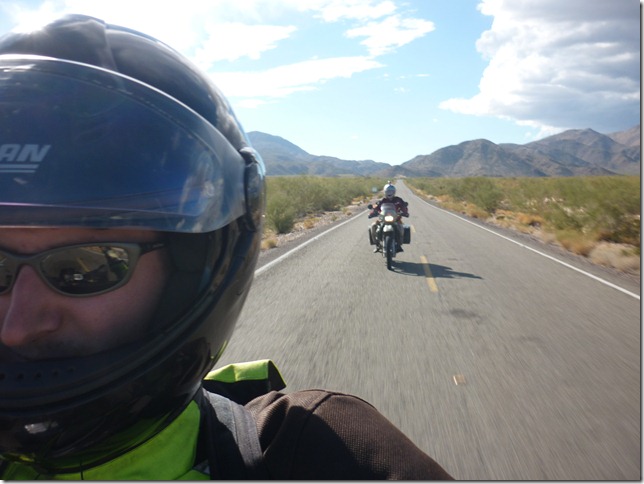 There are a couple of military checkpoints between Ensenada and San Felipe, where we plan to stay for the night. We are asked what are plans are, but don't have any trouble. However, I am a little nervous to be around kids that are holding assault rifles and don't look to happy to be under the scorching sun.
We arrived in San Felipe, exhausted and ready for a room to relax in and some food in our bellies. We check out a few different hotels, trying to see what kind of price we can get. The town is dead, as most of their tourism happens on the weekends, so we're able to score a nice room next to the beach with a pool and free breakfast for $500 pesos (about $40 total). It's a little more than we were hoping to spend, but with the included breakfast it seems to work out.
We jump into the Sea of Cortez, which is so warm it feels like bath water, then shower and head out to walk to town in search of cheap dinner. We end up at a small family run taco shop, where we get enough tacos to fill us up and cervezas for 80 pesos total, or about $8! Score.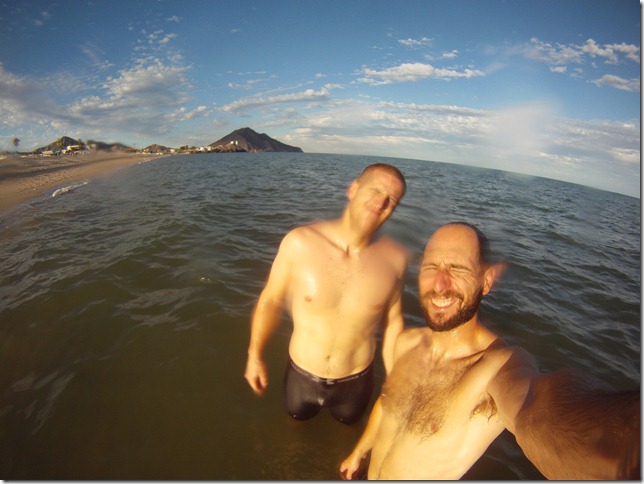 Swimming in the Sea of Cortez. It's as warm as a bathtub, but feels great after a long day of riding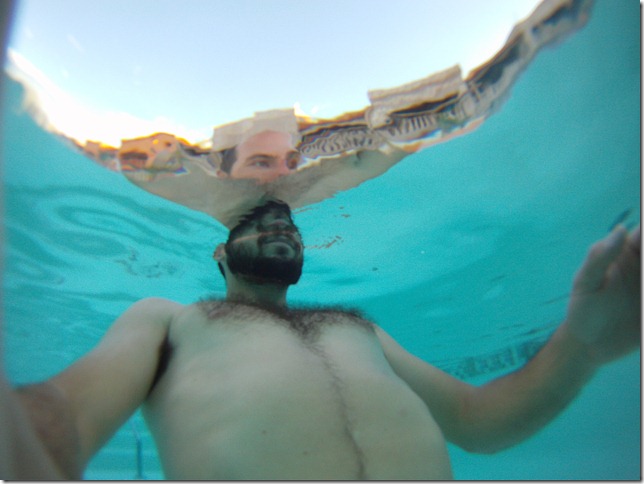 Goofing around with Ben's underwater camera in the hotel pool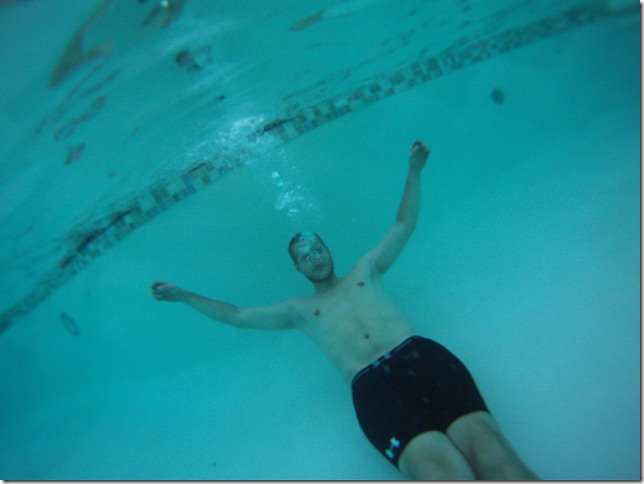 More underwater shots
It's fun riding with someone else. We are able to take pictures of each other and split costs, but besides that, Ben is a nice guy and we seem to travel a very similar way. I'm not sure how long we'll travel together, but so far so good! Plus, it's pretty cool to have video footage of everything going on during the trip from Ben's helmet cam, which also works underwater.
Tomorrow, we'll be heading down the coast of the Sea of Cortez to Puertecitos, then to the famous CoCo's Corner in the desert. The road from Puertecitos south is supposed to be pretty bad, so we'll see how far we can get in the day.