Ben and I take our time this morning, having a great workout along the beach (running, swimming, pushups, situps, pullups) and enjoying our "American Breakfast" at the hotel restaurant. We push off on the KLRs along the coast, headed to Puertecitos. The road is in pristine condition and the view is beautiful.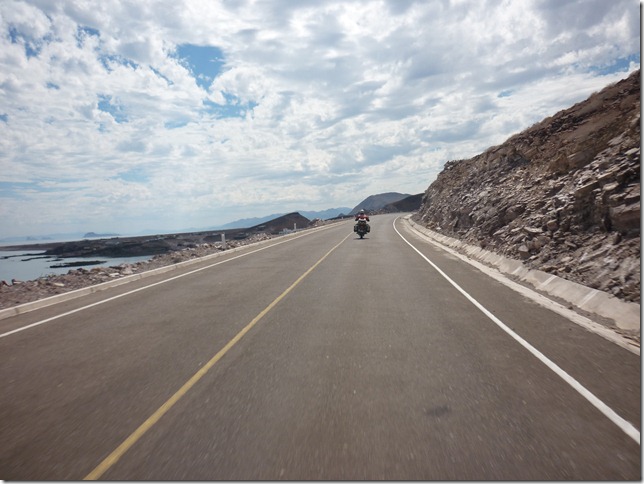 The view and the newly paved roads between San Felipe and Puertecitos
Shortly after Puertecitos, there's a giant pile of dirt and rocks across the road, with a dirt path heading off toward the coast. I guess this is as far as they've paved the road so far. We follow some of the different dirt paths and enjoy the spectacular view.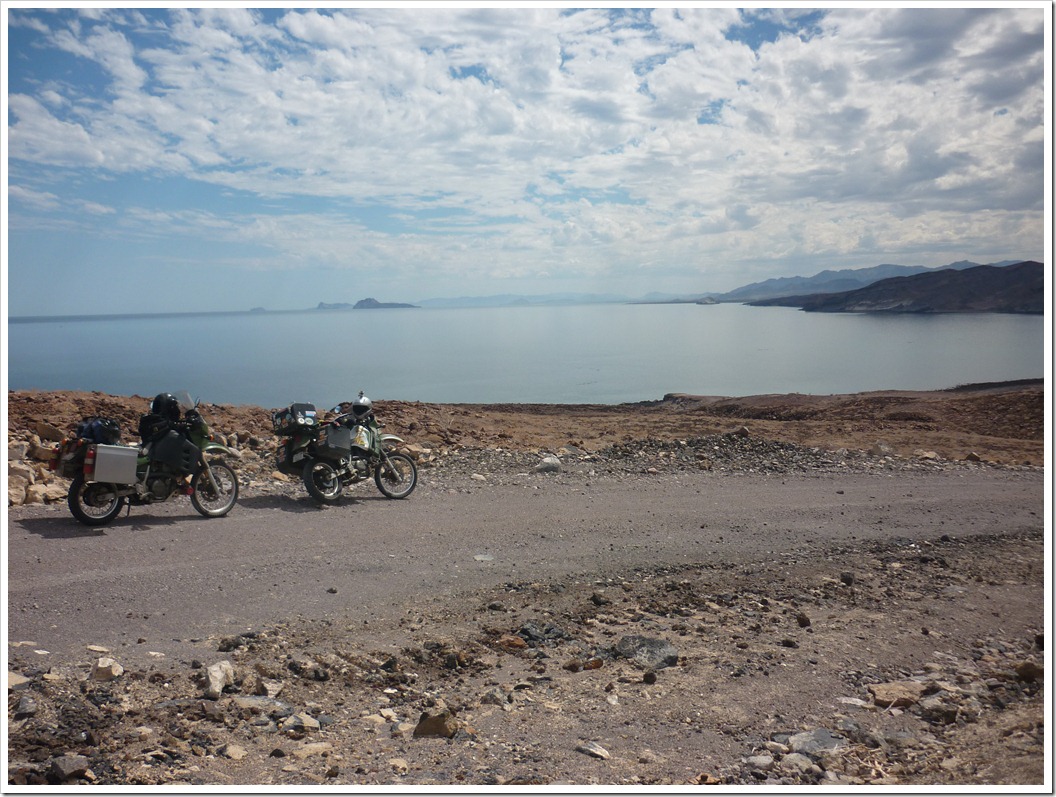 The dirt paths aren't so bad at this point, and the view makes up for the road condition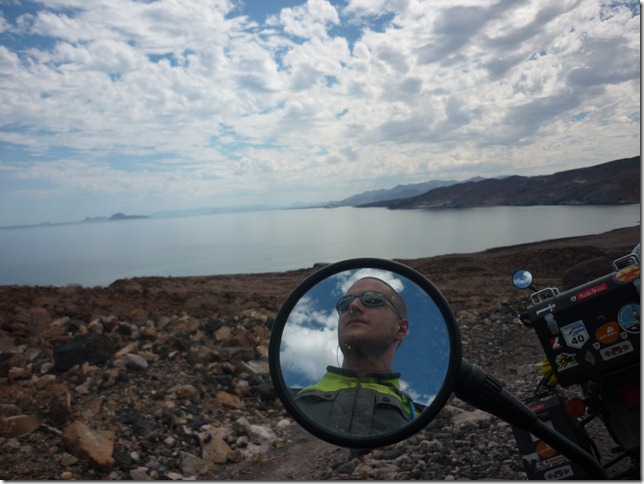 Getting artsy with a self portrait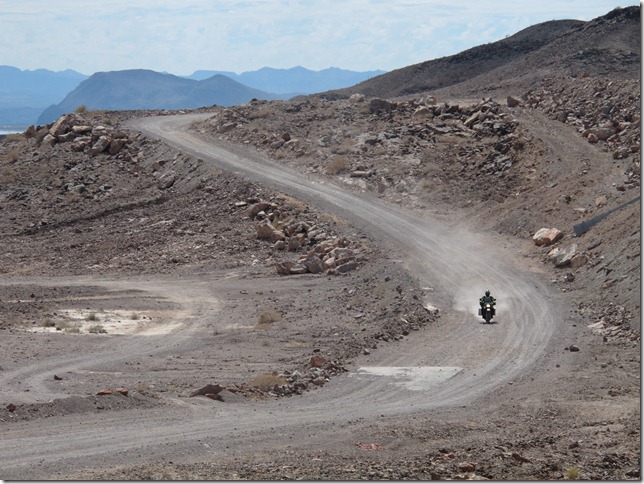 Ben takes the opportunity to shoot some photos and video of me riding the dirt roads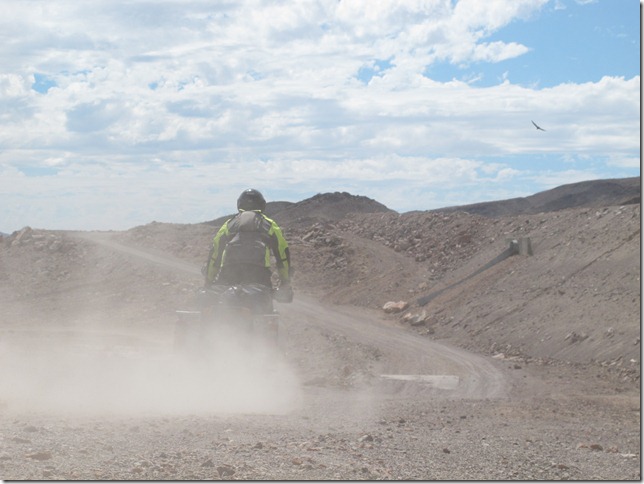 Yep, Baja is dusty
One more… I love all of these pictures…
Ben and I get a little turned around on the dirt paths and end up stuck in some deep sand. Deep soft sand is every motorcycle's worst enemy (unless you're a masochist), and while I'm able to work my way out of the sand with my new 50/50 dual sport rear tire, Ben gets stuck with his balding road tire.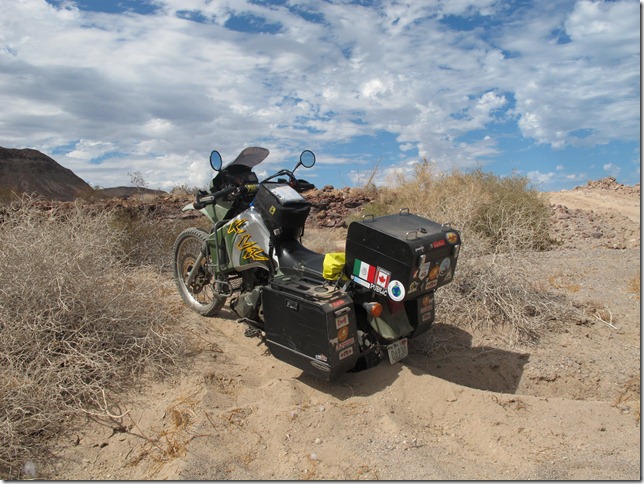 Ben stuck down to his axle in the sand. I end up deadlifting the bike up while Ben gives it some gas and gets out of the sand. I got sand into every crevice of my body
We have another 2-3 hour ride down the dirt road that connects Puertecitos and Coco's Corner, our destination for the night. The road is rough – huge rocks, patches of deep sand, and so many bumps that our bikes start to rattle apart. After stopping to wait for Ben to catch up (remember the difference in our tires?), my bike won't start back up. Luckily, it's a quick fix under the blazing afternoon sun — my battery terminal had rattled loose and I just had to tighten everything back up.
We're hot, dirty, tired, and ready for some relaxation at Coco's Corner. Coco is a well known character in the adventure riding community. He lives by himself in the middle of the desert, literally in the middle of nowhere. He's setup an oasis for people to stop by, drink cold beer and soda, and if they're up for it, stay for a night in his eclectic collection of trailers and trucks. He doesn't charge anything to stay, just for drinks.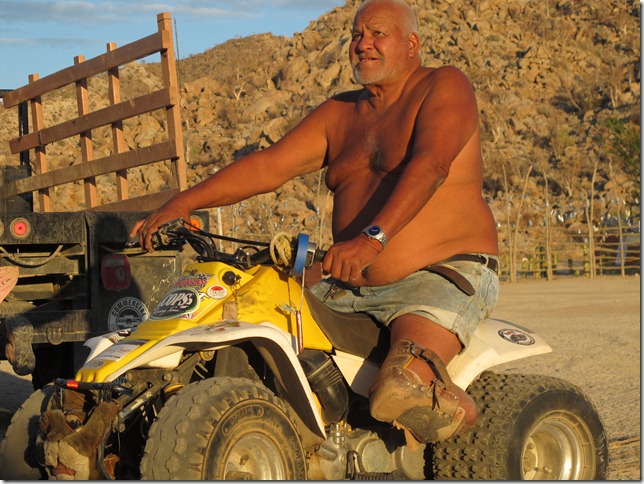 The man himself. Coco recently had to have his second leg removed, so his mobility is pretty limited. However, he gets around pretty well on his little 4 wheeler and still works on all of his little projects around the property, like his impressive collection of cans and artwork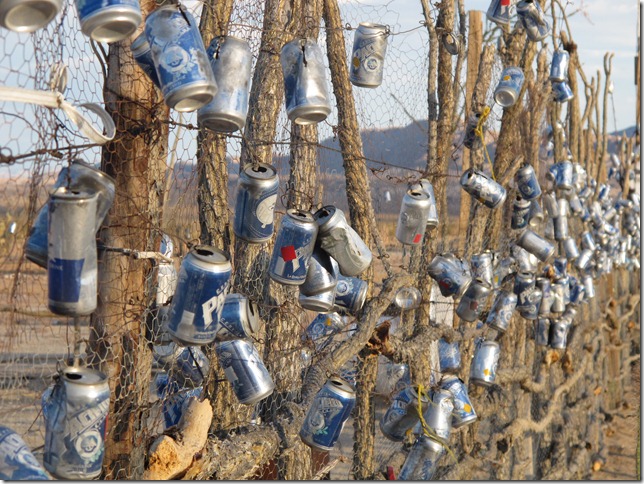 The cans line his property, and can supposedly can be seen from airplanes at 15k feet.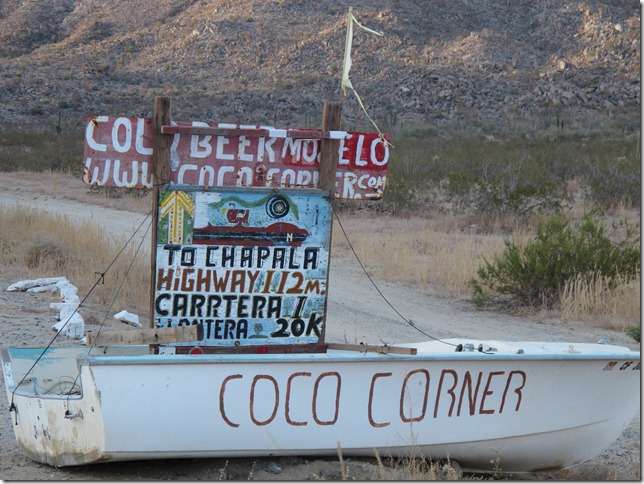 Some of Coco's artwork
We all have some icy cold beers and chat with Coco, who is a great story teller and a bad-ass man. He's survived and thrived in a desolate place, with no direct access to water or electricity. He now has some solar panels that keep his cooler running for cold drinks and some lights, but still lives completely off the grid.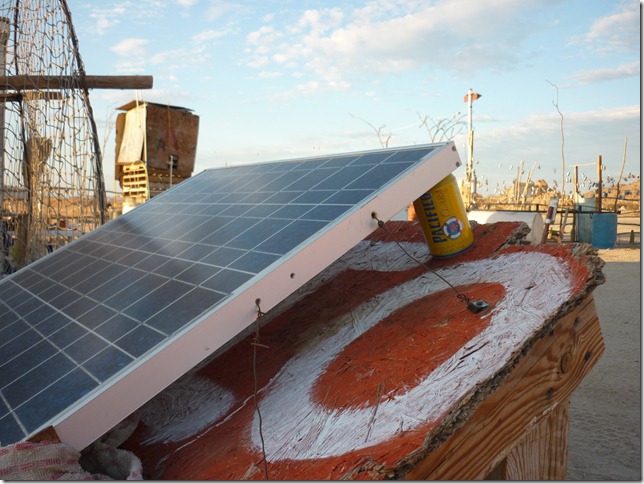 A little ingenuity goes a long way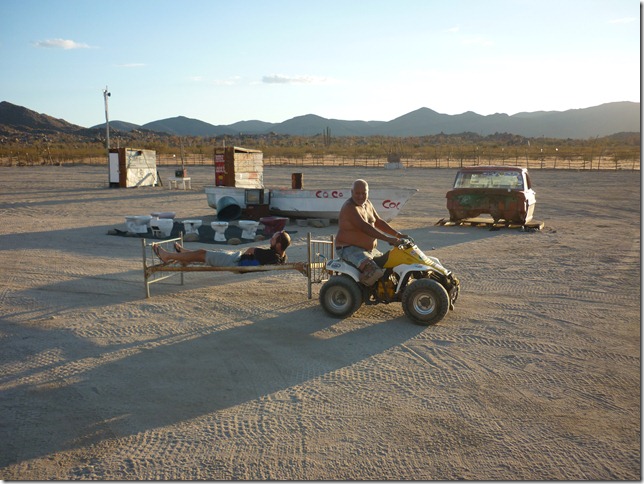 Coco gets our beds ready for the night, and Ben hitches a ride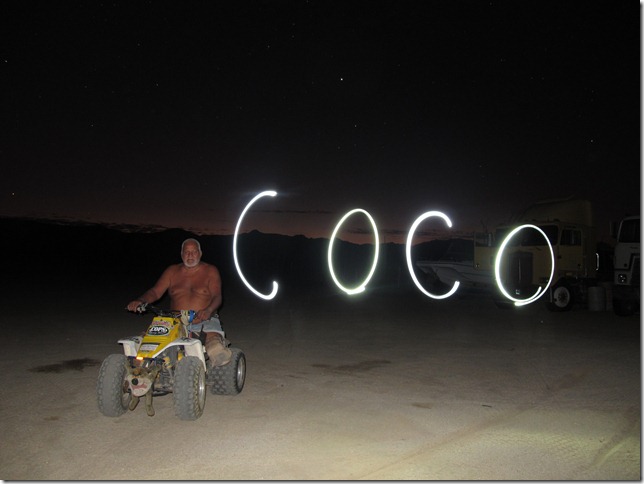 We have some fun with night photography. Coco thinks we're crazy, and calls these "marijuana pictures".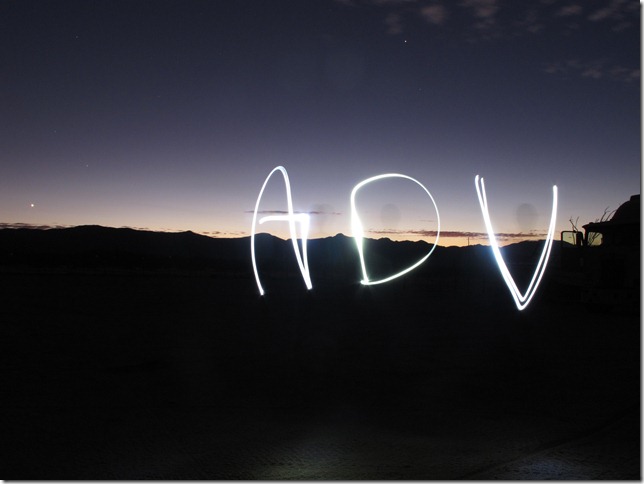 Shout out to ADV!
It's a beautiful night, so we sleep under the stars.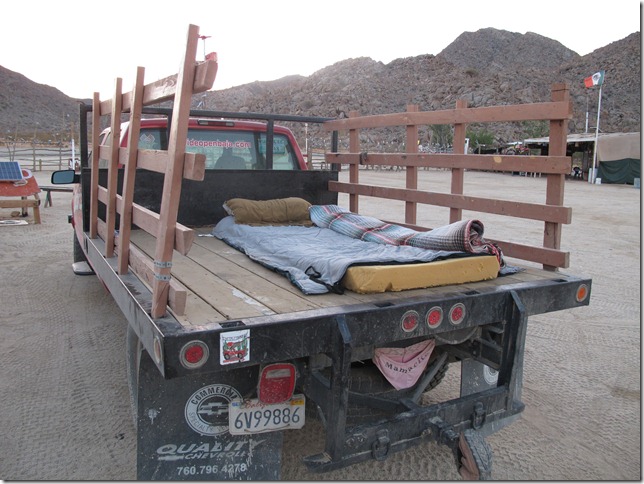 Ben's bed for the night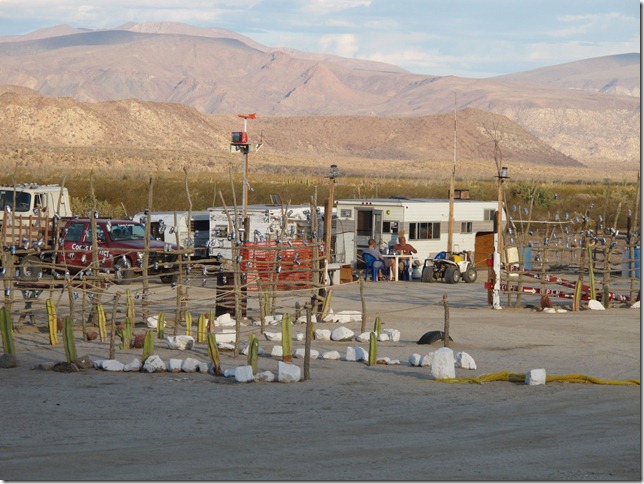 Drinking coffee and signing Coco's guest book in the morning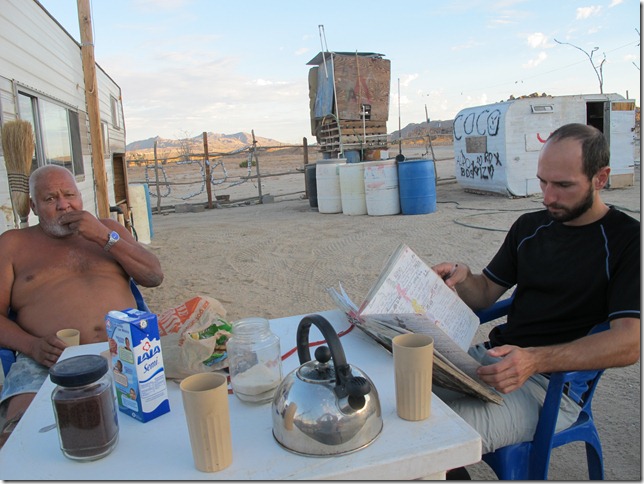 Ben taking his turn signing the book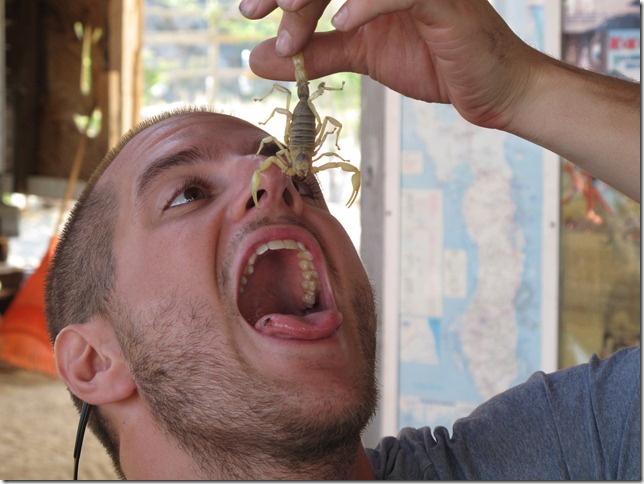 Scorpions for breakfast. Yummmmmm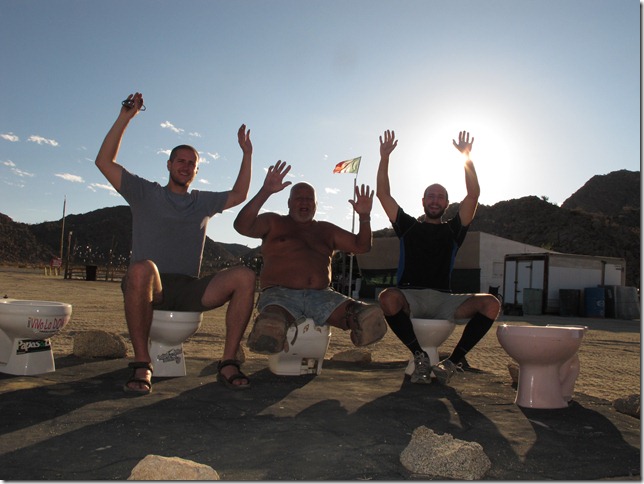 Thanks for a great time Coco
If you ride through Baja, you have to stop at Coco's. You'll never forget it, and Coco won't be around forever. He's 73 years old!
GPS Coordinates: N29 31.032 W114 17.464