After a great night of sleep and an hour of looking at maps with Elizabeth, I take off and driving through the Twin Cities, heading west. After a couple of hours, I notice that my bike is vibrating much more than before. Oscar always vibrates, but this was a new more intense vibration. I look down while riding and notice that the chain is very loose. I slow down and look for a place to pull over in the shade, since it's 95 degrees outside already.
I take off my gear, get the toolkit from the bottom of my pannier, and tighten the chain. I throw some lube on the chain, and notice that it's being stressed near the master link and is not seating correctly in the rear sprocket. Not good.
Here's why. 3 rollers were sheered off the chain and it was causing the chain to bind and stress. I sigh, go inside the restaurant who's parking lot I was in to get some water, and came out to figure out what to do. I have a chain tool but have only used it once. I wind up having to get another chain from a motorcycle dealership a few miles away, but haven't been able to get it installed yet. I'll work on that tomorrow.
While I was in the parking lot, a couple named Dwight and Kim said hello to me and after they ate, came to chat. I told them a little about myself and my trip, and the problems I was having with the bike. I asked them if they knew any where in the immediate area where I could pitch a tent and camp for the night. Kim made a couple of phone calls to no avail. However, Dwight offered to pay for a motel room down the street which I happily accepted, after being stuck in the sun and heat all day long working on the bike.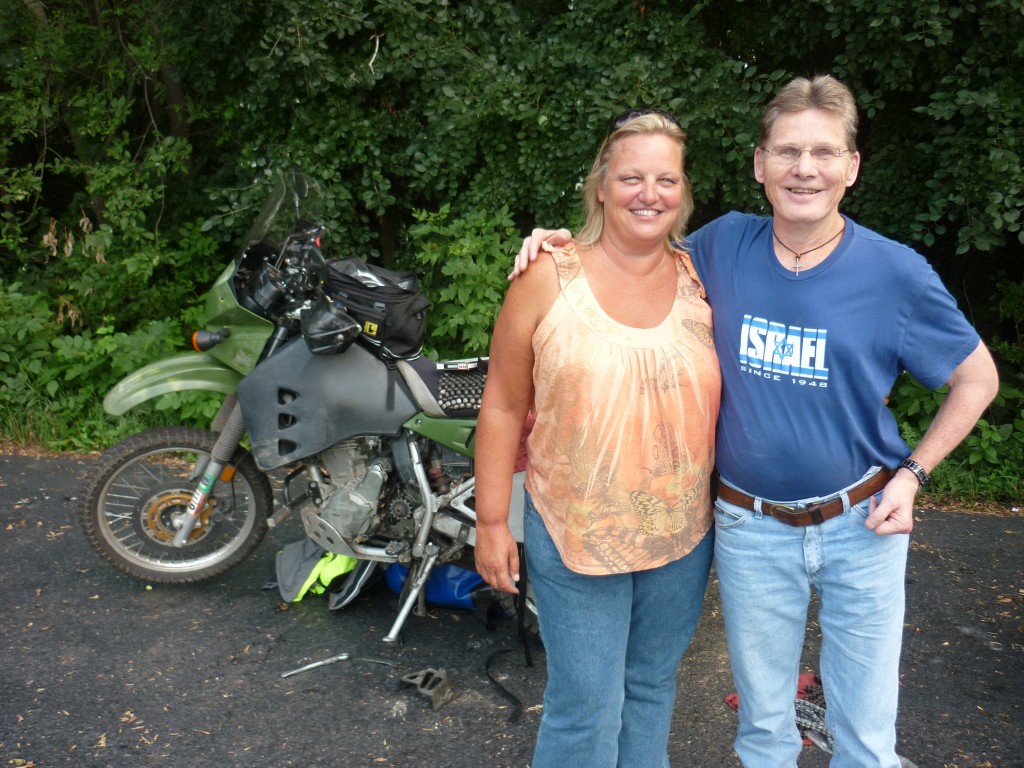 Come to find out, it's their first date tonight.
I pushed the bike to the motel, showered, grabbed some microwave food from the gas station and got to work writing emails and trip reports. It's now 4am and I'm still writing!