I head towards to Twin Cities in Minnesota to stay with Greg and Elizabeth from AdvRider. They were the best hosts at the Annual Latin America Riders Ralley a couple of weeks ago, and invited me to stay with them in their home for the night.
I head northwest from Chicago and try to stay south of a huge storm that rolls through Madison and central Wisconsin. I was caught camping in a tornado outside Madison a few weeks ago and would like to avoid that experience again if possible! While I miss most of the storm, I do run into rain for a few hours.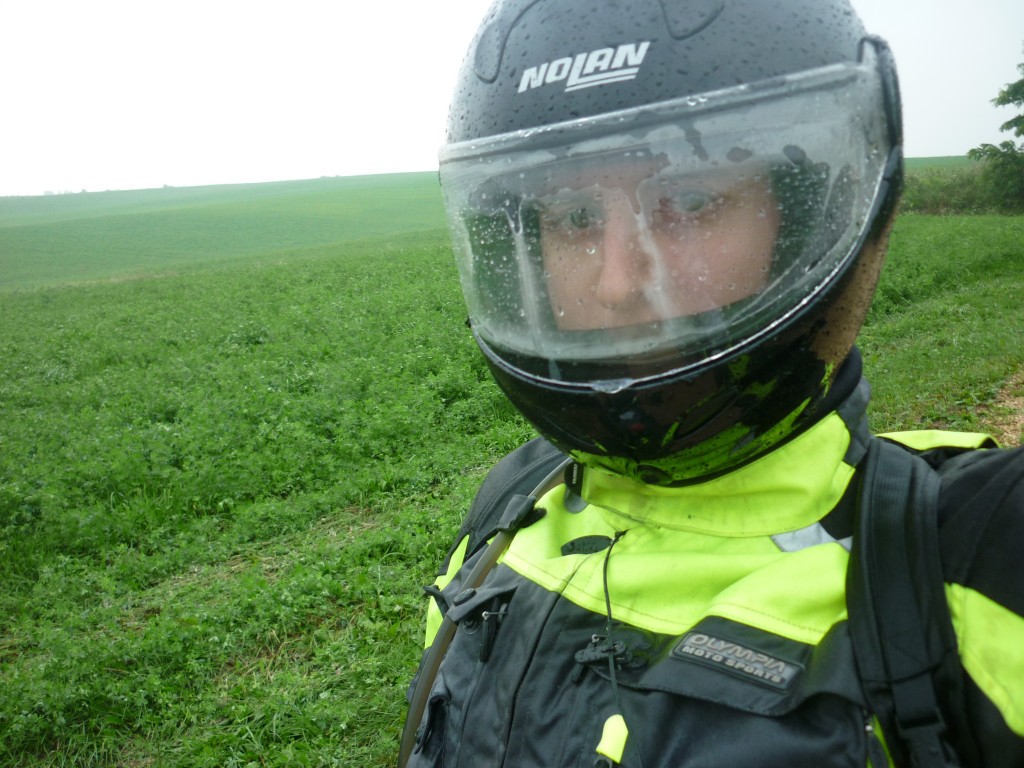 It's really wet, and now my helmet is leaking water into the visor. Need to fix that!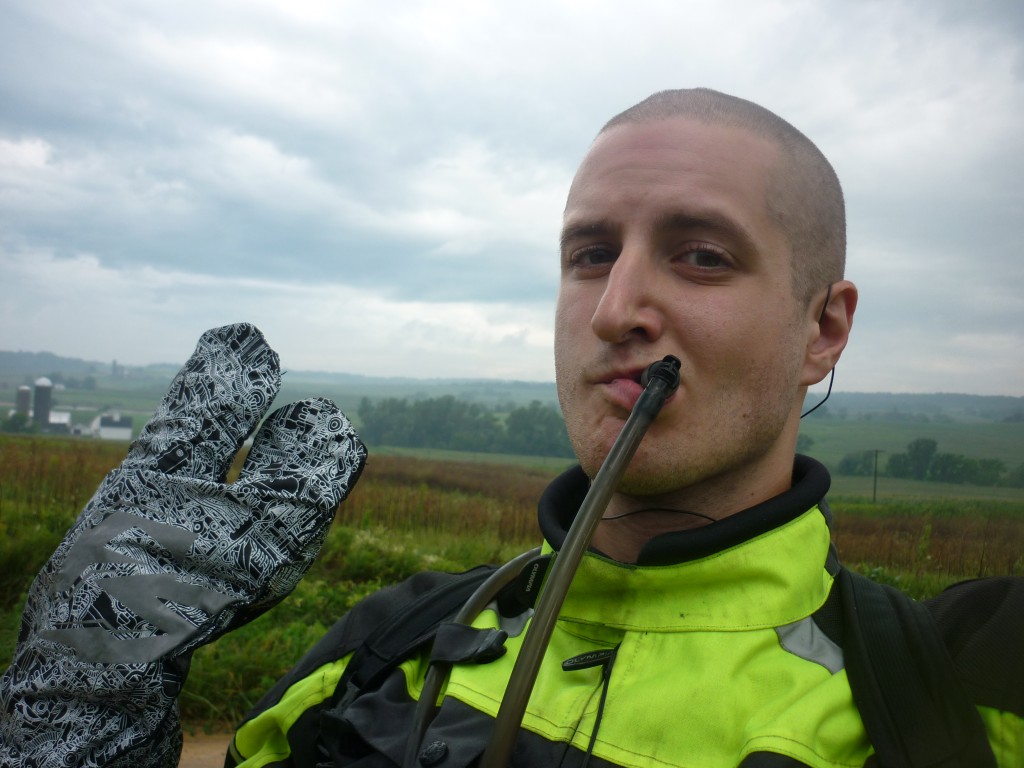 Zoidberg's waterproof claw hands say "Even when it's wet, ya gotta stay hydrated. Woowoowooowoo". Sorry… I thought of that caption in my helmet and it made me laugh when I tried to make the noise.
I have to admit something — I get easily bored riding on highways and freeways for more than an hour or 2. I'll start to see dirt roads of all kinds winding through corn fields, tracks left by farmers, or ATV and snomobile trails. Well, I guess that now I have all the time in the world to travel, I'll take some of these interesting trails to stem the boredom!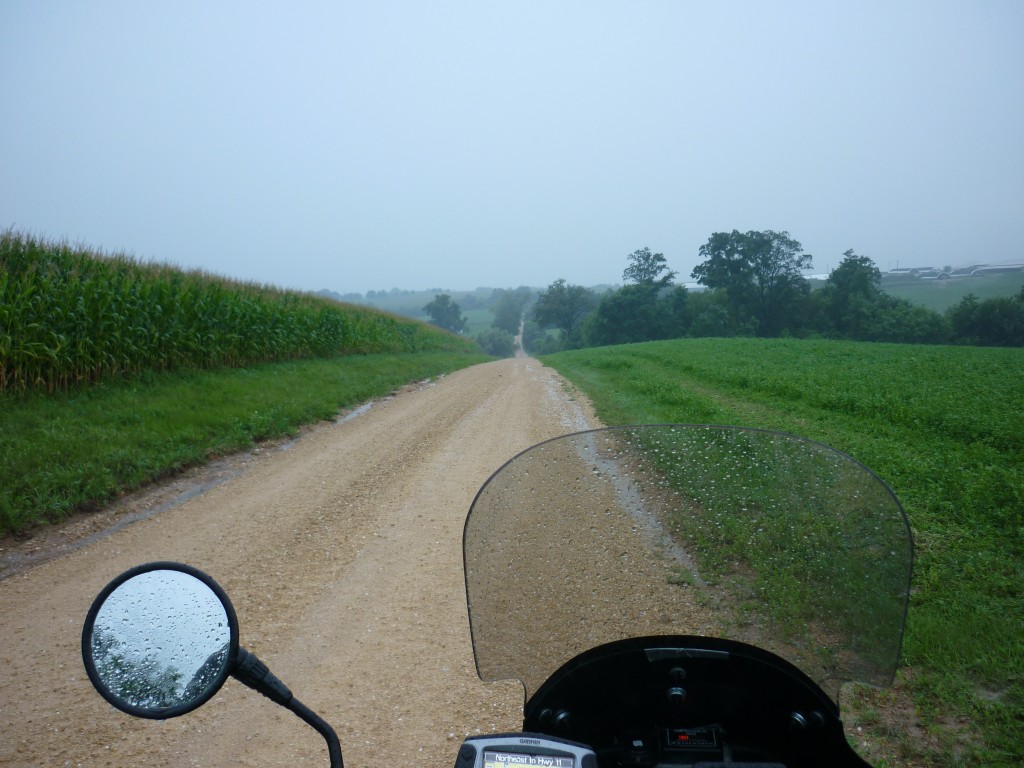 This is more like it!
I continue down dirt roads, trails, and the roads on the Stagecoach trail for a couple of hours, and then am stopped by this: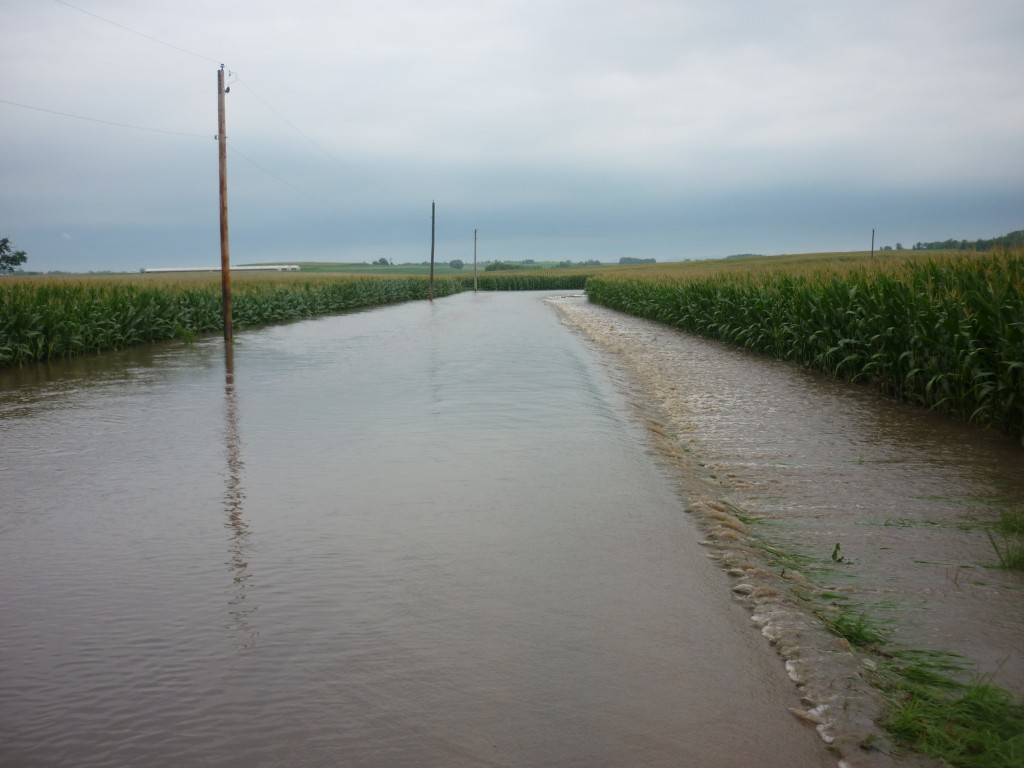 Yeah. It's about 1/8 mile long, has 2 different 90 degree turns, some of the road further along has washed away, it's *deep* on the sides and it's flowing decently fast.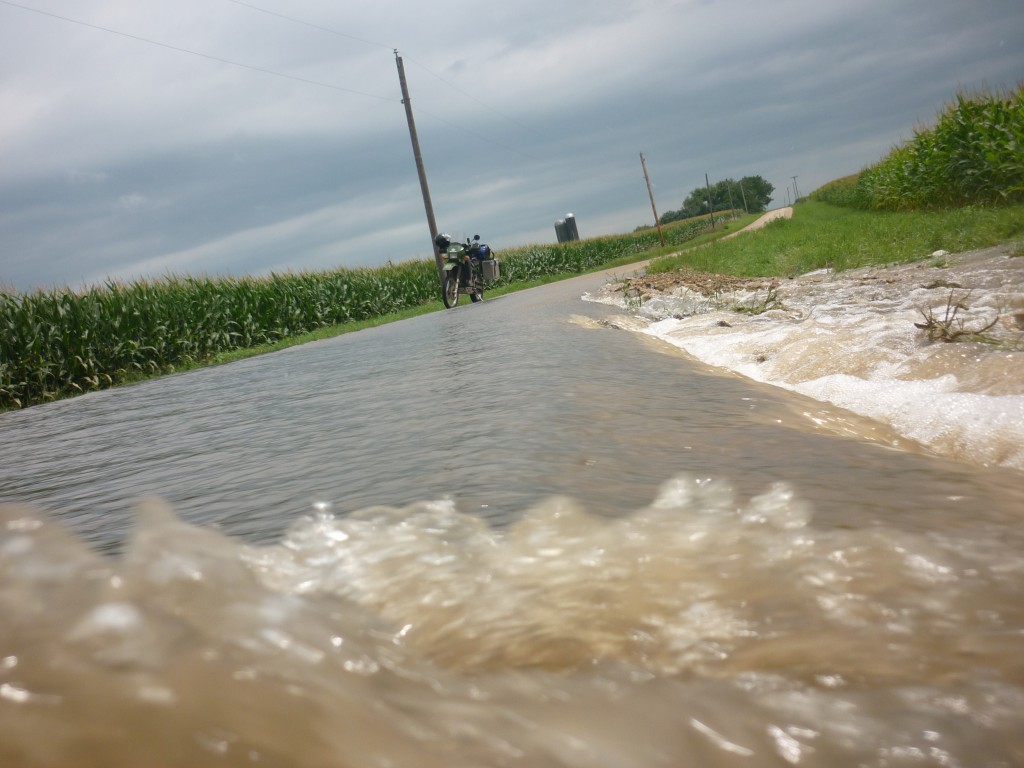 Oscar awaits his fate
I walk through the water to the end of the crossing, turn back and debate — do I cross this or not? No, I shouldn't. I'm here by myself, there's no one here to help if I fall. What if I fall? All of my stuff will get wet. It's my *first day*. I can't fall and get everything wet on my first day! And I don't want to hike both side cases and my duffel bag across the water before or after riding the bike across.
I get back on Oscar, turn him around, and ride away from the water crossing. I'm debating the entire time… I'm proud of my decision at first. It's the smart thing to do. Then, about 1/4 mile away, I start to second guess myself — is this what I'll do in 5 months when I'm in Costa Rica driving through the rain forests? What if turning around then means driving back 100 miles? It wasn't that deep… I could walk the whole thing. These bikes are made to cross rivers. I even installed a t-mod on my carburetor so it doesn't get clogged in river crossings, a common problem Oscar's. Besides, I've done deeper water in MUD and I was fine. This one is just long. And has 2 curves. And is flowing fast.
I turn back around. I've gotta do it! But not before setting up my video camera.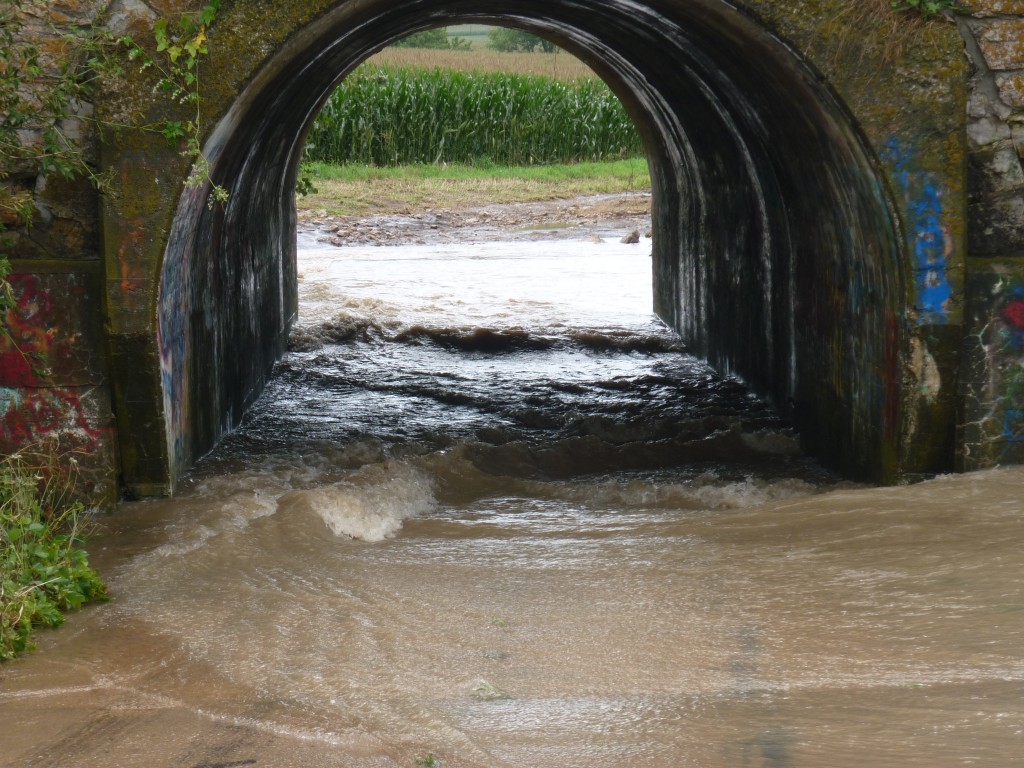 A tunnel overflowing with flood water. I decide to turn around on this one.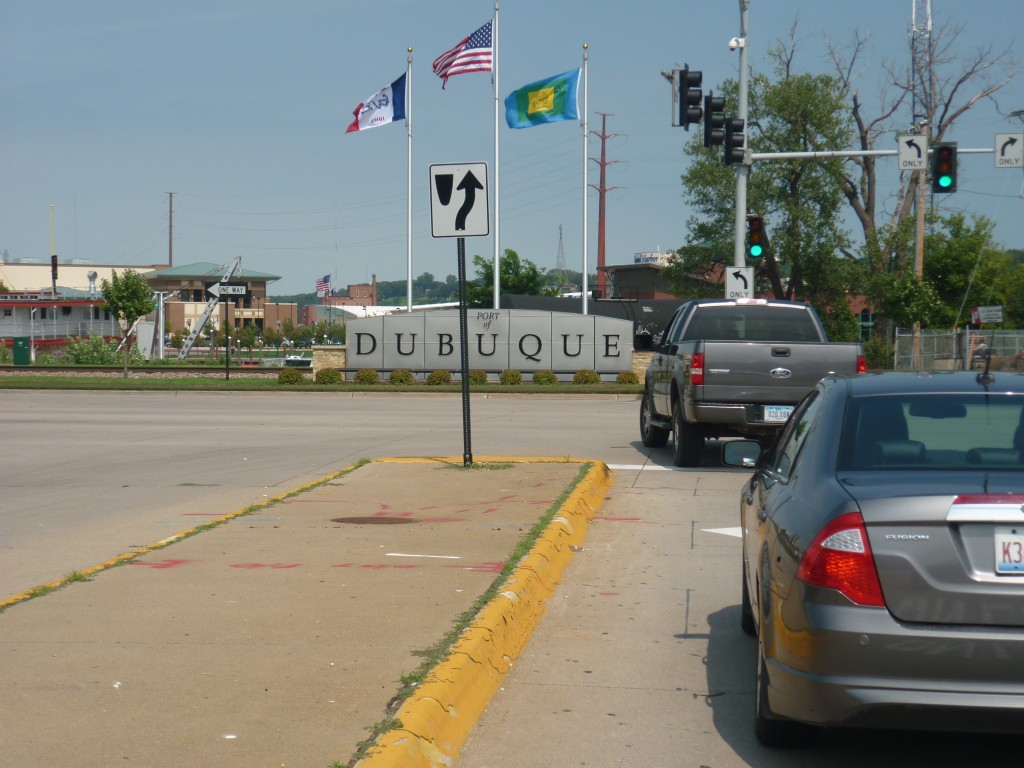 I make it to Dubuque, which is a very beautiful town right on the Mississippi river.
I ride the streets of the city to find a cafe for lunch. I check out a few places and end grabbing a chicken salad sandwich and eat on the main street in Dubuque, people watching.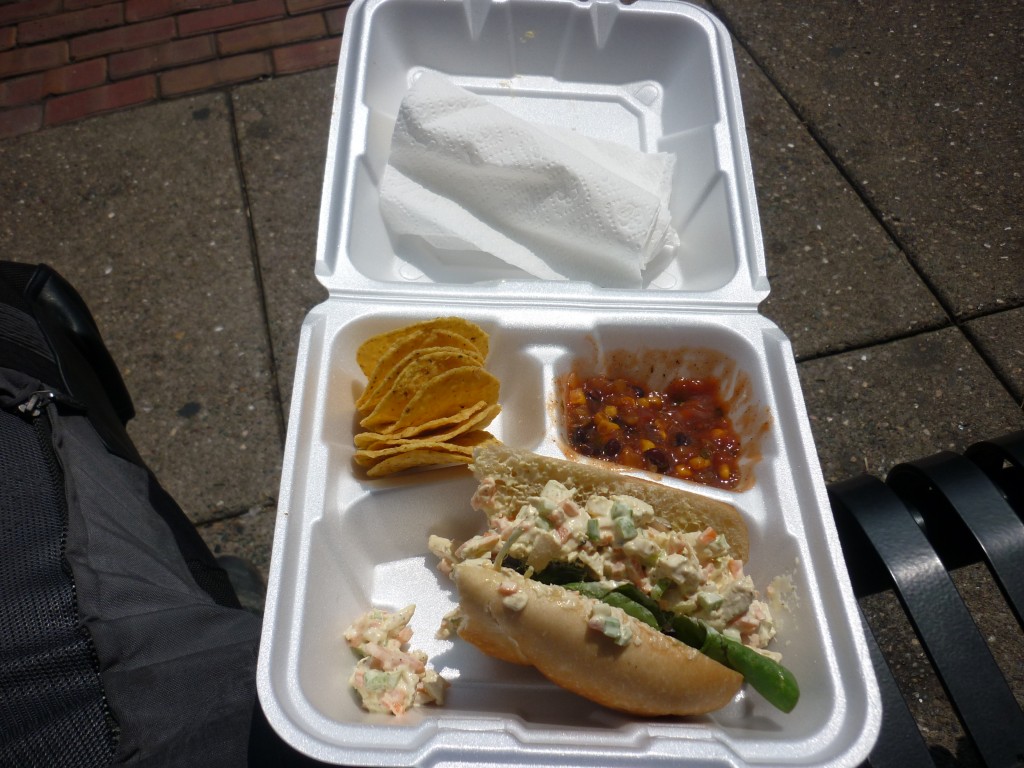 Great chicken salad and homemade bread and salsa. Can't remember the name of the place though.
I follow the Mississippi as far as I can towards the Twin Cities. The ride is beautiful as I ride between Minnesota and Wisconsin. I arrive at Greg and Elizabeth's house at dusk and am greeted by friends and shown a great guest room, all this on 10 hours notice!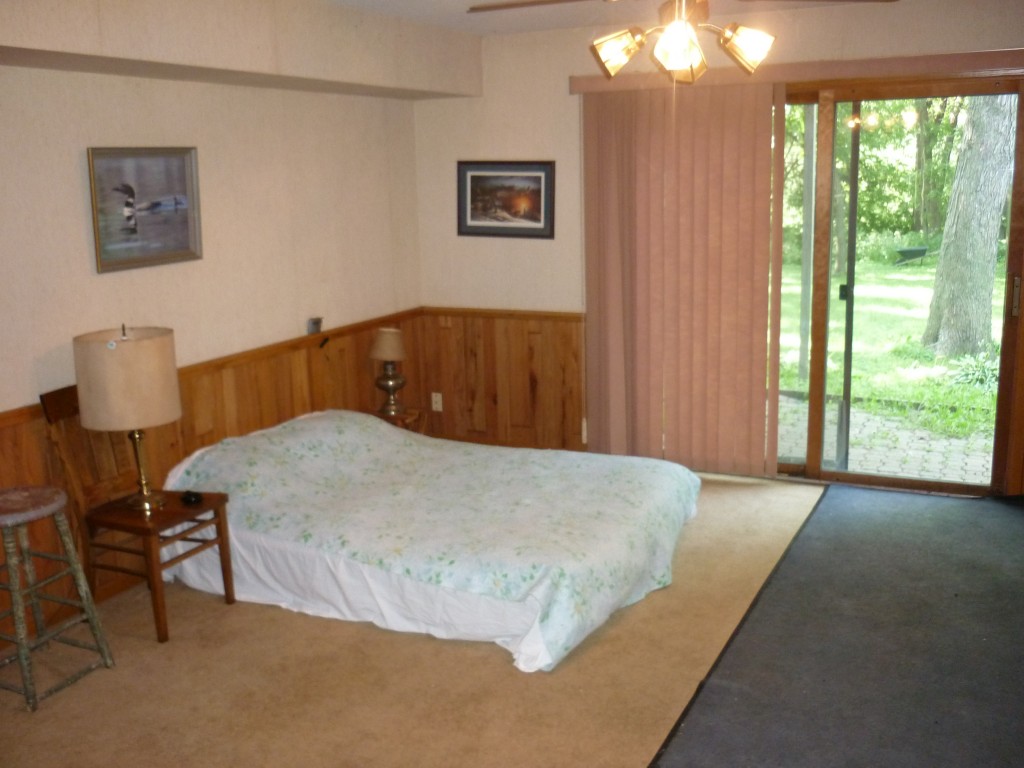 I sleep very well here.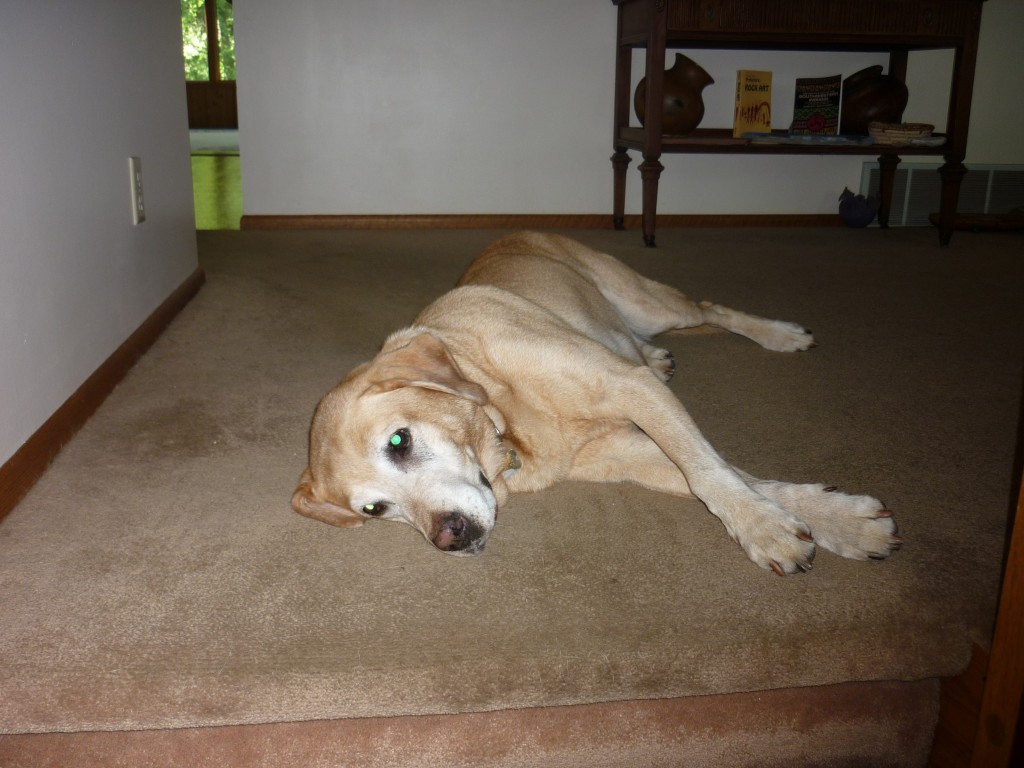 Carhart, the best dog in the world and also half cat